Options for Funding Long-Term Care Expenses
Do you know how to plan for and fund long-term care expenses?
DOWNLOAD THIS COMPLIMENTARY WHITEPAPER TO LEARN MORE.
Although it is difficult to predict one's future health needs, everyone should plan for needing long-term care. This whitepaper is designed to help you understand:
What is the typical annual cost of long-term care?
Is Medicare an option?
What questions should you ask before self-funding?
Is insurance a good choice and if so, when should I buy it?
How much does long-term care insurance cost?
Am I eligible for Medicaid?
And much more!
Submit the form to the right to download your copy today.
By providing your contact information, you consent to receive emails, phone calls and/or text messages from Advance Capital Management. Message and data rates may apply. You can unsubscribe from emails by clicking the 'unsubscribe' link and opt out of text messages by replying 'STOP' to any message.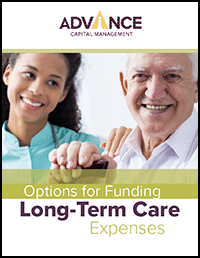 Download the Options for Funding Long-Term Care Guide