Medicare Made Easy (Webinar)
Wed., Nov. 8 at 12:00 ET
Are you ready for Medicare Open Enrollment?
If terms like Medicare Advantage, Part A & B, and the Donut Hole have left you scratching your head, you're in the right place.
Whether you're just beginning to think about Medicare or have questions about optimizing your current plan, please join us for an enlightening webinar, "Medicare Made Easy." It's presented by special speaker Adam Simon, Principal Medicare Advisor at Simple Senior Health Plans.
Why Join Our Webinar?
Navigating Medicare doesn't have to be complicated. Medicare expert Adam Simon will break down the basics, ensuring you're armed with the knowledge and confidence to make the best choices for your future.
What You'll Learn:
Timing is Everything: Know when you should start thinking about Medicare.
Application Made Easy: Step-by-step guidance on how to apply for Medicare without the hassle.
Dive into the Basics: Unraveling the details of Medicare Parts A & B.
Choices, Choices: Understand the differences between Medicare Advantage and Medicare Supplement.
Prescription Insights: Decoding Rx Plans and the much-talked-about Donut Hole.
And much more!
Ready to make Medicare easy? Join us on November 8 at noon ET.
About Adam Simon
With over 17 years in the insurance industry, Adam Simon's ultimate passion is Medicare. He serves as a Principal Medicare Advisor for Simple Senior Health Plans. With so much confusion and complexity surrounding Medicare, many people simply don't know to whom they can turn (or trust). With a client-first approach, Adam loves helping to unravel and demystify Medicare. Since everyone's Medicare "puzzle" is unique, his goal and mission is to be your advocate, providing peace of mind and ensuring that everything he does is in the best interest of your specific, unique life stage and situation.
By providing your contact information, you consent to receive emails, phone calls and/or text messages from Advance Capital Management. Message and data rates may apply. You can unsubscribe from emails by clicking the 'unsubscribe' link and opt out of text messages by replying 'STOP' to any message.
Investment advisory services are provided by Advance Capital Management, Inc. Advance Capital Management and Simple Senior Health Plans are not affiliated companies.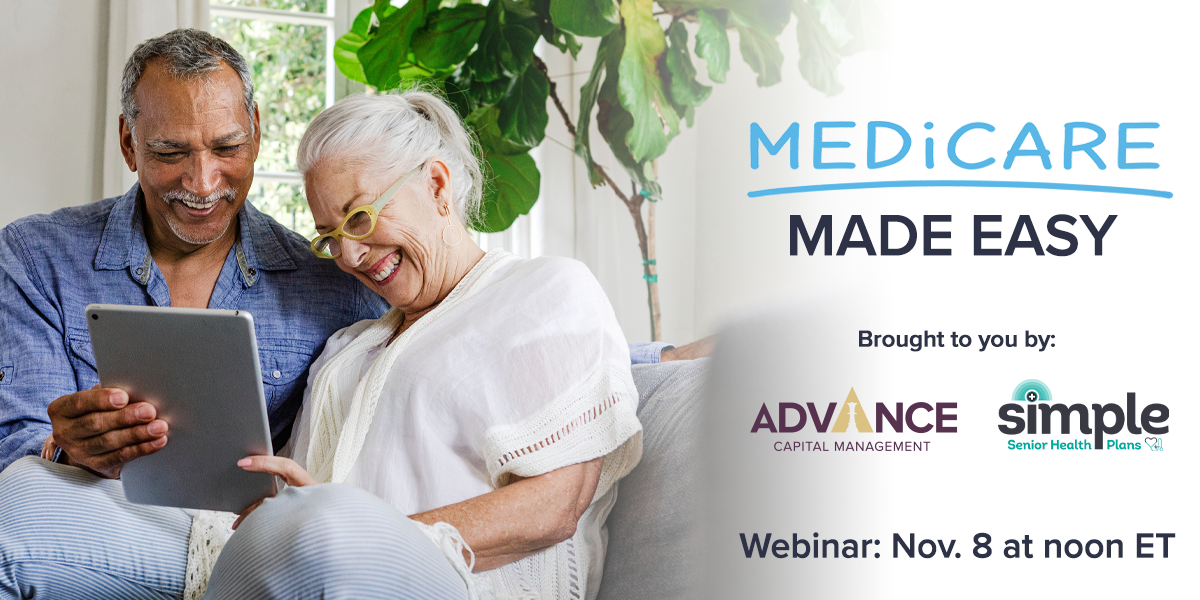 Register today to secure your spot at this webinar on Nov. 8 at 12:00 ET!