Passing On Your Wealth: 8 Ways to Leave an Inheritance
What difference do you want to make after you're gone?
If you're reading this, then you've started thinking about how the wealth you've built over your lifetime can help the next generation and/or the causes you support. You may be ready to transfer assets now, or just exploring your options for the future. Either way, you need a plan.
This guide will help give you a strong start. You'll learn about 8 common ways to effectively pass on wealth:
Cash
Bank products
Life insurance benefits
Investments
Retirement accounts
Real estate
Wills & trusts
Charitable contributions
Download your free copy by filling out the form on this page.
By providing your contact information, you consent to receive emails, phone calls and/or text messages from Advance Capital Management. Message and data rates may apply. You can unsubscribe from emails by clicking the 'unsubscribe' link and opt out of text messages by replying 'STOP' to any message.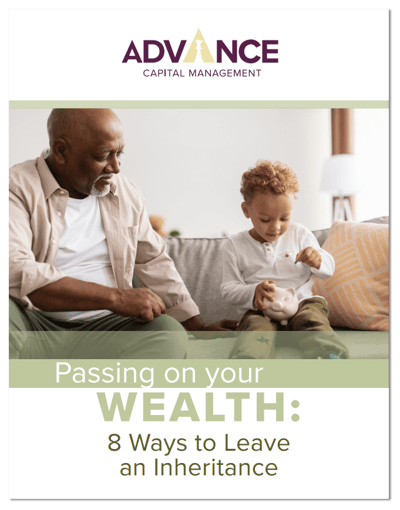 Download the Passing On Your Wealth E-Book